Get our Diwali pack with recipes, decorations ideas and FREE spices
Diwali is usually a time of joining family and friends, and feasting. This year may be a bit different due to COVID. But it's still the ideal time to get out the cooking pot and cook up a curry in your own home. We hope you enjoy making the delicious, easy-to-cook, veggie recipe below.
Donate to Bright Sparks and get a Diwali activity pack with special spices to use in this recipe – and in our Diwali dessert. Plus lots of inspiring ideas for table lights and decorations.
Donate £5 or more by clicking on the purple Justgiving button.
*Send your name, address and email to: [email protected] to receive your Diwali pack. *Privacy statement: We assure you that your personal data will not be used for any other purpose than your transaction with us.
Roast butternut squash and chickpea curry
1 medium butternut squash
I onion
I can chickpeas
1 can chopped tomatoes
1 tablespoon of plain Greek yoghurt
1 sq inch piece fresh ginger, grated
4 cloves garlic, crushed
3 tablespoons oil, eg groundnut or sunflower
1 tablespoon of Bright Sparks special spices
1 heaped tablespoon of your preferred curry paste or powder (eg mild/korma, spicy/Madras)
quarter of a teaspoon of sugar
all or half a green finger chilli, de-seeded (optional)
small bunch of coriander, washed and chopped, including stalks
generous squeeze of lemon juice
salt, fresh ground black pepper
1 Cut the butternut squash into pieces, approx. ¾ inch square, discarding the seedy bit in the middle. No need to peel it. Place on a large baking tray (or two small ones), with one tablespoon of the oil, sprinkle of salt and a generous grind of black pepper. Roast in oven at 180'C for about 30 mins, turning once, until soft and starting to brown at the edges. Remove from oven.
2 Meanwhile, make the curry sauce: slice and chop the onion; peel and grate the ginger; chop or crush the garlic cloves; de-seed and chop the finger chilli if liked; wash and chop the coriander including the stalks, reserving a few leaves to garnish.
3 Then, heat 2 tbsp oil in a large pot on a low-medium heat. Add the onion and stir. In 5 minutes as the onion starts to turn golden, add the Bright Sparks whole spices including all the curry leaves, and stir for a moment to release their flavour. (Curry leaves are good for your digestion – eat them as part of the sauce.) Don't let the spices burn – turn down the heat if need be. Add the ginger and garlic, stir-fry briefly, and follow with the curry paste. Stir for a few moments so nothing sticks to the pan.
4 Add the tin of tomatoes, a whole tin of chick peas with their water, the lemon juice, finger chilli if liked, big pinch of salt, pepper and the sugar. Stir, cover and simmer on a gentle heat for 15 mins, stirring occasionally.
5 The squash should be cooked by now. When ready, add it to the pot, and allow everything to simmer very gently together for another five minutes. Add the spoonful of yoghurt. Adjust the salt to taste. Finally add the chopped coriander and allow to bubble briefly before turning off the heat.
Garnish with a few coriander leaves. Serve with cooked rice, crunchy salad, raita and your favourite chutney! Subscribe to our blog or get the Divali pack for more recipes.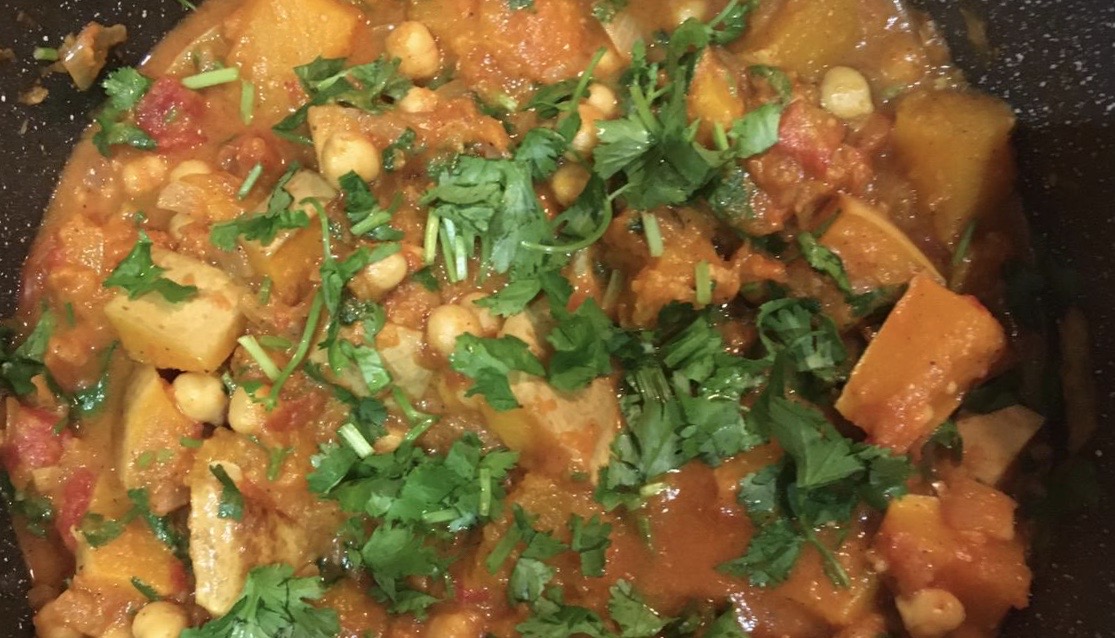 Follow us on Instagram at @bright_sparks_school_india or join us on Facebook at Bright Sparks School India. Tag us using the hashtag brightsparksdiwali
New friends and supporters are always welcome, so let us know how you'd like to join in and help here